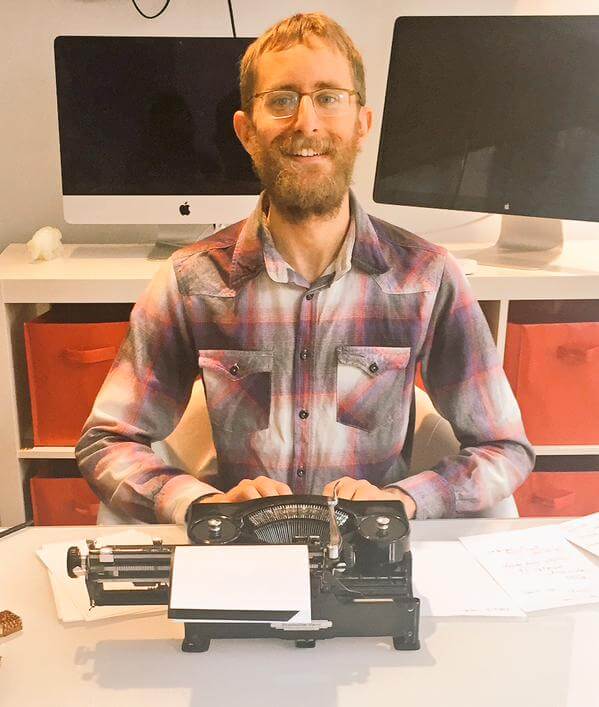 Alandra Markman (before 2018, known publicly by the psuedonym "Allan Andre") is an avant-bard on voice, saxophone, guitar, piano, and typewriter, equal parts literary and musical. A New York City native, he survived a brutal childhood entrapped by a human trafficking ring to travel, meditate, and pursue his lyrical gifts in adolescence. He was educated in modern verse at the Poet's House and Naropa University and in classical composition at Mannes College and Marlboro College. He went on to study rock, jazz, and improvisation with creative luminaries like Anne Waldman and Ornette Coleman. In addition to a conventional performance career of readings and concerts, he has been commissioned by hundreds of venues as an improvising poet.
Naropa University, Boulder, CO
Creative writing and music composition.
Recipient of Naropa's Margaret Randall Poetry Prize.
Flourishing Clouds Hermitage, Portland, OR
Marlboro College, Marlboro, VT
American Institute of Guitar, New York, NY
New School for Music, New York, NY
Third Street Music School Settlement, New York, NY
Recent and forthcoming performances
"Poetry Upon Request." I set up with a portable typewriter and create improvised poetry; I have written over five thousand poems this way. I do this in public spaces as well as for private events. Some recent venues in New York include Soho House, The Riverdale Country School, Columbia University, and Culture Fix Gallery. Press coverage can be found on several blogs and websites. One example URL: http://wwword.com/3303/featured/street-poet/
Premiere of "Ocean Suite," a collaborative musical piece with violinist and composer Piotr Szewczyk. Performed by members of the Nashville Symphony Orchestra, Nashville, TN
Solo saxophone concert at ABC No Rio, New York, NY.
Limited Edition Chapbooks
Traveling By Mirror: A Hitch-Hiker's Guide to Tenderness. 128 pp. Co-authored with Erin Likins. Edition of 100. Self-published through Tattered Cover Press, Denver, CO
Religious Anarchy: Poems. Chapbook, 20 pp. Edition of 100. Self-published, New York, NY.
Mind Breaths: Top Ten Places to Wake Up in North America. Chapbook, 20 pp. Edition of 50. Published by the Visual Voice Gallery, Montreal, QC.
Love Songs for Pedestrians: Poems. Chapbook, 50 pp. Edition of 100. Self-published, New York, NY.